ColegauCymru was delighted to support Learning & Work Institute's Inspire! Awards in Cardiff on 14 September. The event was a celebration of the achievements of exceptional individuals, families, community projects and organisations who have shown outstanding passion, commitment and drive to improve themselves, their community or workplace through learning.
This annual celebration recognises the life changing achievements of people, projects, and adult learning provision in Wales.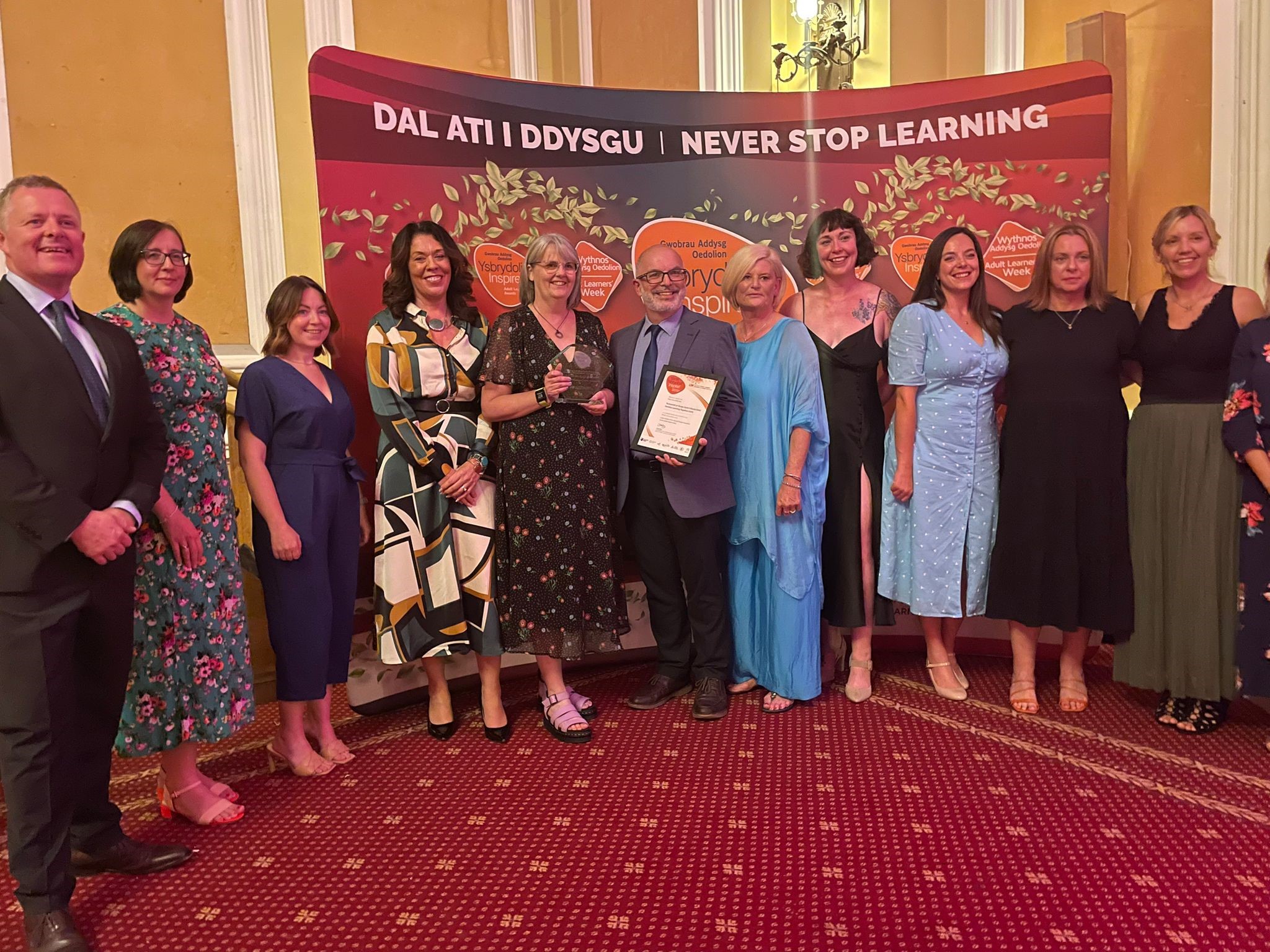 The Minister for Education and the Welsh Language, Jeremy Miles MS, spoke of the wonderful opportunity to showcase the accomplishments of a diverse group of people each demonstrating passion, commitment and drive to seize the life changing opportunities learning brings to become active and prosperous citizens. He underlined Wales' commitment to being a nation of second chances, where it is never too late to learn.
ColegauCymru was delighted to be joined by John Griffiths MS at the event to celebrate the learners' success. John, himself a former lecturer in further education, now Chairs the Senedd's Cross Party Group for Further Education and Skills.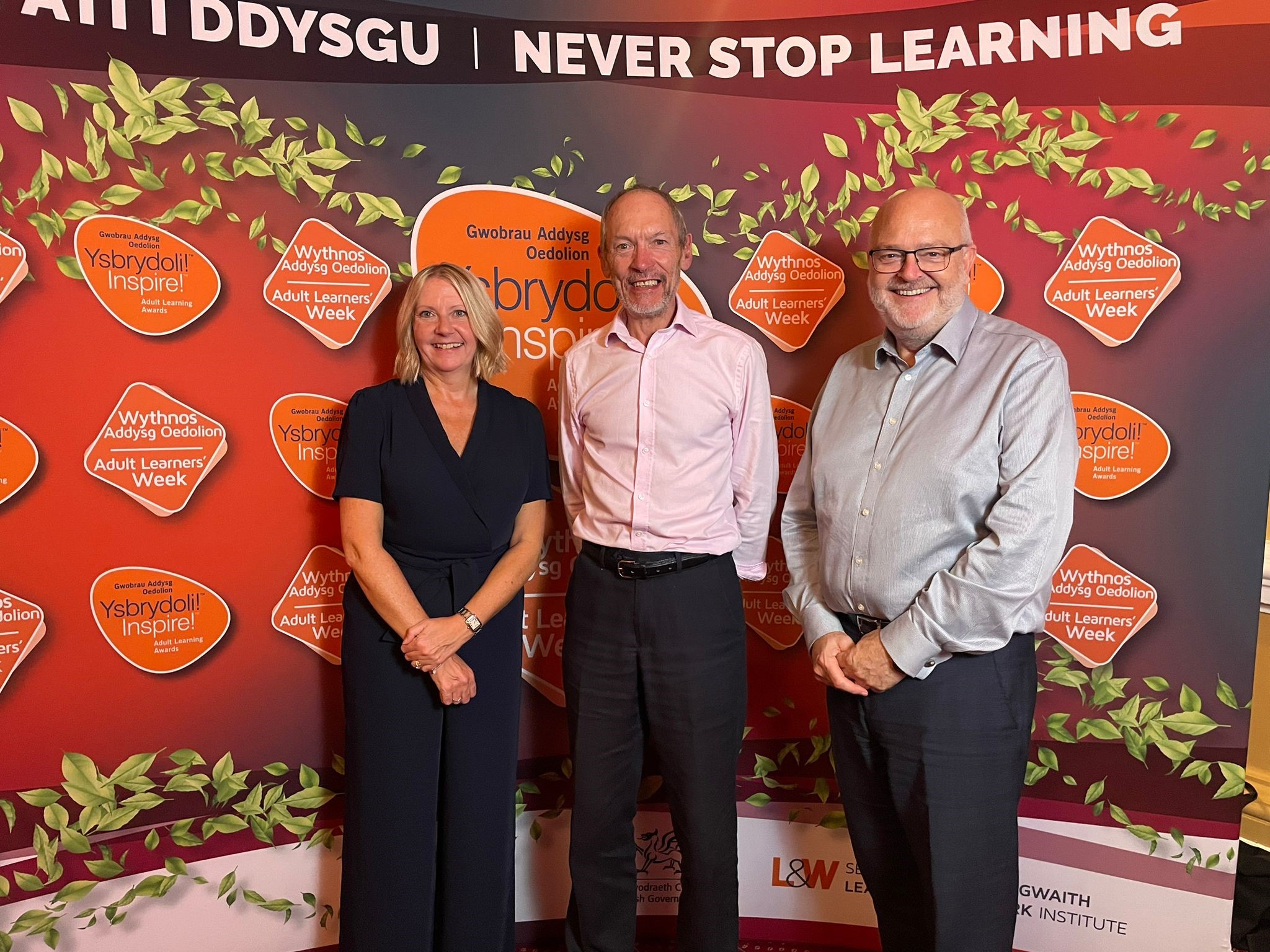 At the event, we were delighted to see so many learners from our further education institutions (past and present) honoured for their hard work and commitment. Here we share some of the winner stories and the steps they took to build their confidence, take a second chance, and change their story through education and skills.

Essential Skills For Life Award Winner
Nominated by Adult Learning Wales, Vale People First Men's Group offers men in the community a safe space to learn new life skills and to connect with each other.
Learning for Better Health Award Winner
Nominated by Adult Learning Wales, Rachel Parker's story tells us of her journey overcoming adversity and on to a path to qualify as a counsellor.
Hywel Francis Award For Community Impact Winner
Nominated by Cardiff and Vale College, this award truly encapsulates the value our further education institutions bring to our communities. Read more about Families Learning Together (CAVC).
Different Past Shared Futures Award Winner
Nominated by Gower College Swansea, Walid Musa Albuqai's inspirational story tells of his journey fleeing war-torn Syria with his wife and three children and learning English, which in turn has supported him to have a successful career and life in Wales.
Ageing Well Award Winner
Nominated by Adult Learning Wales, Jan Wallace's story is testament to the value and importance of adult learning at any age.
Young Adult Learner Award Winner
Nominated by Coleg Sir Gâr, Harley Clements' determination and focus studying public services at college which led to an Animal Care and Welfare Degree, has seen her change her path and career prospects as she now works in the animal care industry.
A heartfelt congratulations to all nominees and winners, and to those that supported them in their learning journeys.
Further Information
Find out more about all the winners of the Inspire! Adult Learning Awards
Meet the 2023 Inspire! Adult Learning Award winners
Lucy Hopkins, Communications Manager
Lucy.Hopkins@ColegauCymru.ac.uk