ColegauCymru is delighted to have been accredited as a Living Wage employer.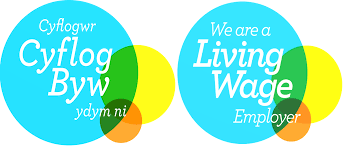 By paying the Real Living Wage, employers voluntarily take a stand to ensure their employees can earn a wage which is enough to live on. The Living Wage for Wales is a collaborative effort between the Living Wage Foundation and Cynnal Cymru to promote the benefits of Living Wage accreditation for employers, workers and the economy.

ColegauCymru Chief Executive Iestyn Davies said,
"We're pleased to be joining a growing family of Living Wage employers in the education sector in Wales.

Collaboration is one of our values here at ColegauCymru. We're committed to a culture of teamwork, partnership and collaboration to achieve our vision of world-class further education. Without a workforce that is paid fairly for the work they do, it would not be possible for us to achieve this."
The real Living Wage is based on the cost of living and is the only UK wage rate that is voluntarily paid by over 7,000 UK businesses who believe their staff deserve a wage which meets everyday needs, over 300 of which are in Wales.

Further Information